Play Now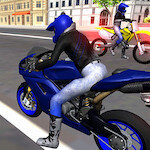 In Motorbike Simulator, get ready to feel the wind on your face! Jump on your motorcycle, put on your helmet, and be prepared to ride at the top speeds! You may not be a motorbike rider in real life, but with the 3D graphics of this game, you can have a taste of the thrill of riding one. Have fun!
Thrilling and challenging, riding a motorcycle is not for the faint of heart! Reflecting this fact in its gameplay, you can enjoy the top speeds in this game without any dangers! Your objective in this game is pretty simple! All you have to do is to ride around on your bike. To start the game, click on the play button. Next, pick one of the 4 available areas. From a highway to off-road forest tracks, the places you can visit are pretty diverse. When you start the game, you can see the controls in the top left corner of the screen. Just below that, you can see the three different bikes you can use. Choose the one you like, hit the gas! Enjoy!
Do you enjoy driving different vehicles? Then be sure to check our collection of free car games to try our other popular and fun titles. Have fun playing!
Developer
Gamestoplay.org developed Motorbike Simulator.
Release Date
December 21, 2018
Features
Colorful 3D graphics
4 different areas to choose from
3 different motorbikes to ride
Intuitive controls
Controls
You can use the arrow keys or the WASD keys to drive. Press the SPACE BAR to brake, C key to change the view, R key to reset the scene, G key to reset your bike.