Play Now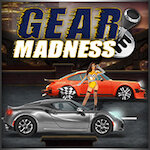 In Gear Madness, hold your feet on the accelerator pedal because you have got many races to win to get the biggest prize! Only with your mouse and great timing skills, you will not believe how many competitions you can win! Compared to other racing games, this one is all about your timing skills to speed up your latest model sports car. If you are ready for the first round, let the race begin!
Car racing is not all about speed but even mostly about strategy. Luckily, the game gives you the key strategy to win all the rounds at the beginning. Your objective in this fun cars game is to shift gears at the perfect time to increase the speed of your car and win every race doing that. Click on the play button and select your level. Before the race begins, the very first thing to do is keep clicking on the accelerator pedal until the indicator stands on the green line for a good start. Then you should wait until the speed pointer comes on the green area and that is the time to click on the gear to shift it. As you win the races, you will earn the prize specified for each competition and you can use your earnings to upgrade the stats of your car. Good luck!
Don't hesitate check our collection of online and free cars games if you are unable to slow down after such adrenaline!
Developer
Code This Lab srl developed this game.
Release Date
August 29, 2017
Features
3D colorful graphics
Fancy cars to drive
10 races to win
Intuitive controls
Controls
You can play this game with your mouse.