Play Now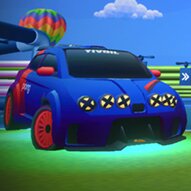 In Pocket League 3D, we are offering you the most amazing car racing and soccer combination! You will control your mini car as you try to score a goal on the other team's goal post! Are you excited to see this amazing game? Let's jump into it and beat your opponent! Have fun!
Do you like to play racing games? What about football games? If you like both of them and cannot decide which one to play, you are in the right place, my friend! We combined a racing game and a soccer game for you! You will control your mini car as you try to score a goal! If you are ready to play, click on the button and start the game. Don't forget to choose your game mode before you start! You can either play in single-player mode against a CPU or 2 players mode to challenge a friend. You can even include AI bots in the game to help you in the matches. You can control the cars with arrow keys or WASD keys if you play in 2 player mode. By jumping your cars, you can make more powerful hits. Your car will flip through the air and strike even harder if you do a double jump. Pick your favorite country's flag and try to win the game by scoring the most goals before the time runs out! Have fun and good luck!
If you liked Pocket League 3D, to check our collection of free and online sports games, click here!
Developer
RHM Interactive developed Pocket League 3D.
Release Date
March 31, 2021
Features
3D graphics
2 player
Sports and cars combination gameplay
Multiple cars to choose
Controls
Player 1 Move: "Arrow Keys", Jump: "L", Flip: "Double L", Player 2 Move: "W,A,S,D", Jump: "G", Flip: "Double G".