Play Now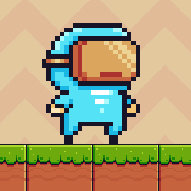 In Adventure Hero, the most important quest you can possibly imagine is waiting for you! You're wondering what the answer is? It's the quest to find more food, of course! Our hero may look small but he has a whale of an appetite! And he's hungry as a wolf right now. Can you help him find food in this dangerous place?
Do you see those juicy, mouth-watering fruits? Well, our character definitely does and he means to eat them. He wants to treat himself to a feast but the road to paradise is paved with obstacles. Your objective is to help him eat these delicious fruits and reach the shining trophy at the end of each level. You can use the arrow keys to move. To avoid the threats on this journey, you may need to double jump and attach to the walls. You have 3 lives. If you touch any of the obstacles or foes more than 3 times, it's time to peace out. You have to eat all the fruits if you want to take the trophy and move on to the next level. You can see how many fruits you must collect in the top left corner of the screen. Get ready to catch all the fruits and sate his hunger.
Thanks to you, this little hero has eaten too much and now he's full. But we need your skills in other games as well. Check out our collection of online adventure games by clicking here to browse more titles like this one. Enjoy!
Developer
Developed by BestGameSpot.
Release Date
September 8, 2020
Features
Colorful 2D graphics
Different levels to complete
Entertaining gameplay
Intuitive controls
Controls
Left arrow to go left. Right to go right. Up arrow to jump.