Play Now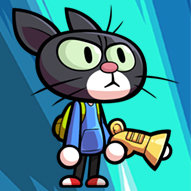 In Kumu's Adventure, join a team of brave rouges and explore the realm and what's left off from the late Immet civilization. Magic and technology coexist in this world, and that leaves many opportunities for the brave and resourceful. Can you help this team complete different quests and improve their base of operations?
Wild animals and monsters are everywhere, so you should be prepared to face them. The objective of this game is to complete different quests, improve your characters, and upgrade your base camp. You can play the game with your mouse. You start in your base camp. Click on the machines to create resources, and use them to repair other ones. As you repair and upgrade the machines in your camp, you can craft more powerful items. Go to adventures to complete quests, defeat enemies, and discover reward chests. At the beginning of the game, you have few members in your team. But by completing quests and doing exploration, you can unlock more characters. Not everything is peaceful in this world. Sometimes you'll have to get rid of enemies to reach your destination. In these turn-based battles, you can use the different upgrades and tools you've discovered and created against your enemies. Enjoy and good luck!
For more games like this, don't forget to check our collection of free and online adventure games. have fun playing, and don't forget to browse our other category pages too!
Developer
Camex Games developed Kumu's Adventure.
Features
Colorful 2D graphics
Different characters to add to your team
Can discover different items
Intuitive controls
Entertaining gameplay
Different quests to complete
Controls
You can use your mouse to play this game.