Play Now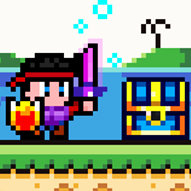 In Hero Knight Action RPG wear your armor, sharpen your sword and get ready for the battle. For the enemy is tough and your people need your help. Will you be able to help them or leave them all alone in the darkness?
Do you hear the cries coming from the town? Darkness has returned and monsters have burned a village and now the people are running for their lives. But as long as you're here, death shall not triumph. For they are the prey, and you're the hunter. Your objective is to kill as many monsters as you can and survive for as long as you can. You can attack them by clicking on the sword icon. Your health and mana bar is in the top left corner of the screen. You can also see your level there. Try to take down as many enemies as you can to increase your level. Your level is important because each you level up, you increase your health. At first, the foes you face will be weaker, but they'll also get stronger as you're making progress in your journey. Each time an enemy dies, they leave behind golds, gems, items, and health potions. You can upgrade your status and skills with the gems you find, and buy new items with gold. Have fun!
If you want to go on new adventures, click here to check our collection of online adventure games and prove your valor.
Developer
Developed by PowerSlash Studios.
Release Date
June 19, 2020.
Features
Many items to buy
Fun and challenging gameplay
Intuitive controls
Colorful 2D graphics
Controls
Use your mouse to play. Click on the sword icon to attack. Use the A key to drink health potion and the S ke to drink mana potion.