Play Now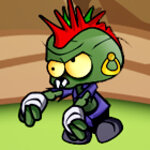 Zombies Can't Jump invites you to a thrilling adventure of undead invasion! Humanity is in danger of extinction, and the world is at stake because of the walking zombies. Fortunately, you have a big advantage to use against them. Jumping is a gift only for the livings! Now, grab your weapons, build high bases, and show the world belongs to ones with beating hearts!
Saving the world is not a one person job. The whole army of zombies has to be destroyed for the sake of livings. Luckily, your bff is as brave as you are and ready to risk her life for this mission. In this fun action game, your objective is to repel your enemy waves with your weapons and built bases that prevent zombies attack you. Because they can't jump, you know. Your kills will earn you points that allow you to obtain more powerful weapons and defense bases. There is an equipment button under both characters. You can click on that button and choose your defenses. In the middle of the characters, there is an acceleration button to make you shoot faster. Don't forget to check your achievements from the main menu. The more achievements you succeed, the more items you will get. Good luck and have fun saving the world!
If you enjoyed this thrilling undead game, then you should actually see the second adventure, Zombies Can't Jump 2 of this popular series!
Developer
Okijin Games developed this game.
Release Date
October 2015
Features
2D colorful graphics
Strategy involved action adventure
Various items to unlock
Simple controls
Controls
You can use your mouse to play this game.