Play Now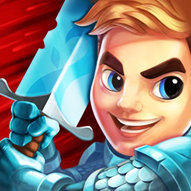 In Swords of Brim, a world of mystery full of monstrous creatures and deadly dangers is waiting for you! But what you really need to do to survive in this crazy world is holding your sword tightly and trusting your instincts. You have to keep running and eliminate all the dangers put on your way to save the planet from the invasion. Will you be able to complete your mission with your utmost fighting skills?
You have a big journey ahead. You will face different monsters and dangerous obstacles while trying to keep running on your way to build peace again. In this fun skill game, to complete your mission, use your keyboard to move your character, and control the sword. Your objective is to stay alive by defeating the scary creatures and avoiding the obstacles. When you start the game, your character will automatically keep running. Use the left and right arrows to move around, up arrow to jump, and down arrow to slide. To kill your enemies with your blessed sword, use the "Space" key. As you collect coins on your way, you can buy new swords from the in-game shop. Also, you can upgrade 3 different power-ups. Now let your enemies find out who you are!
Be sure to check our collection of free and online skill games by clicking here to find out more thrilling adventures like this game.
Developer
kiz10 developed Swords of Brim.
Release Date
May 22, 2020
Features
3D colorful graphics
Upgrading power-ups
In-game shop to buy new swords
Endless running adventure
Controls
Right and left arrow to move around, up arrow to jump and down arrow to slide. SPACE bar to attack.