Play Now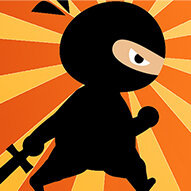 With Fatty Ninja, jumping on the buildings has never been this much difficult! Either it is an exercise for him, or he has so many enemies, this ninja can't even run properly. He needs your help to beat the evils and save the girls. If not, the city will go into a chaos that cannot be saved after. If you are ready, let this running adventure begins!
It's fight o'clock! The opponents are waiting for you on the highest buildings of the city. What is worse, they captured lots of innocent girls to use as bait. Can you knock them all down while trying to keep your balance on such heights? If so, let's click on the play button and start the game! In this fun running game, your objective is to stay alive as long as possible. Use the "W" key or up arrow to jump and the "S" key or down key to attack. Or you can simply left-click to jump and right-click to attack. If you are on mobile, you can tap left and right tap on the screen. Collect the coins on your way and unlock new skins from the in-game shop. Being a superhero is this much easy! Don't forget to claim your daily gift at the right top corner of the game screen. Good luck!
We've got lots of adventures as fun as this one! Be sure to check our collection of free and online running games by clicking here to browse more those titles now.
Developer
Vseigru.net developed this game.
Release Date
April 9, 2019
Features
2D colorful graphics
Daily gifts to claim
Skins to unlock from the in-game shop
Fun and engaging non-stop running adventure
Controls
You can left and right click to jump and attack. The "W" key or up arrow to jump. The "S" key or down arrow to attack.