Play Now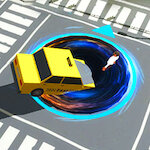 In Black Hole.io, it's time to show who has the biggest appetite! Join the fun with other players in the online multiplayer gameplay, and devour everything on your path. Can you become the biggest on the map?
The city is a great place to fill your endless stomach as a black hole. Get ready to devour everything on your path. Your objective in this game is to become the biggest player on the map before you run out of time. You can play with your mouse, so enter a name and click on the start button on the main menu. You start as a small black hole, but you can grow by eating various things. Go and devour small objects like post boxes, cars, or even humans! As you eat, you'll earn points as well. Try to avoid other players while you're small because they can eat you too. As you grow in size, you can hunt other players, and swallow whole buildings! Move around the map with your mouse, and find the best things to eat. Your score and your remaining time are located in the top left and right corners of the screen, respectively. Have fun and good luck!
face other players, and try your best to earn the most points in our other competitive and free .io games. Enjoy!
Developer
PlayJolt developed Black Hole.io.
Features
Colorful 3D graphics
Online multiplayer gameplay
Entertaining and addictive gameplay
Intuitive controls
Different objects to eat
Controls
You can play this game with your mouse.