Play Now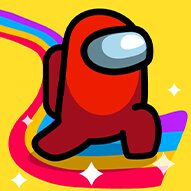 Conquer the world in Amogus.io! As a secret agent, you are sent by the general to conquer the space station. This is a very vital mission, and you are very trusted by your general. So, now brace yourself and dive into the warzone in the space station to conquer all the places!
In this game, you will be fighting against many imposters that try to occupy the space station. Your aim is to be the conqueror of more land to complete the task to win the game. In this space station, things work a little differently than in a normal warzone, though. Here, you are expected to move across the space station and color the floor your color. This means that you have occupied an area. You can safely move across the floor until you bump into a rival. In the world of imposters, you should always be cautious. This means you should make your rivals stay away from your lines when they aren't tied back to your space yet. Likewise, if you interrupt a rival's line when that is not tied back to the rival's mainland yet, you can eliminate that rival. Do not forget that you are fighting against real-time players in this game! So, get to the space station and try to conquer anywhere you see now!
If you enjoyed playing against real-time players, you should check out our other io games by clicking here.
Developer
DRA developed Amogus.io
Release Date
November 15, 2021
Features
2D colorful graphics
Requirement of strategic thinking
IO game with real-time rivals
Indicator of how much of the land you occupy
Controls
You can use the arrow keys or the mouse of your computer to move your character.