Play Now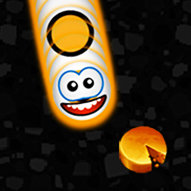 In Worms Zone, it's time to prove that you're the most powerful worm of them all. In this game, join other players from all around the world to treat yourself to a feast. Of course, this feast will be the end of some of them but who cares? As long as it's not you...
This arena is the most exciting and scary place in the world. Why? Because there's a lot of food around to grow to unimaginable sizes. The tricky part is, you can also end up as the food that will fill the stomachs of others. So, your objective is pretty simple. Try to eat as much food as possible to become the biggest worm possible and take your place at the top of the leaderboard. And avoid turning into food, of course. You can use your mouse cursor to maneuver your way to success. You'll start as a teenie weenie worm but you know what they say. Eating healthy food makes you grow strong. So move around to eat fruits, vegetables, and also power-ups to get a speed boost and other powers. You can see the leaderboard in the top left corner of the screen and the map in the top right corner of the screen. Try to make clever moves to defeat other worms by making them touch you. But beware! Because they'll try to do the same to you. If you want you can change your skin and before the game starts. Good luck out there!
Check our collection of online skill games by clicking here and browse more fun titles. Enjoy!
Developer
Developed by Wild Spike.
Release Date
September 4, 2019
Features
Many customization options
Fun gameplay
Nice 2D graphics
Intuitive controls
Controls
You can use your mouse to play this game.