Play Now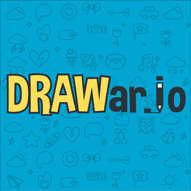 In Drawar.io, get ready to show your amazing drawing skills to others all around the world! In this fun and competitive drawing game, the one who can figure out what others are drawing wins the game! Do you have what it takes to beat your opponents and claim 1st place with the most points and boast with your crown?
Ditch the brushes and grab your mouse! Drawing can be a bit challenging in this game, as the clock is ticking! Your objective in this game is to collect the most points through 3 rounds to become the winner. To do that, you should guess what others are drawing as fast as you can. Give a nickname to yourself and customize your avatar before starting the game. As you win games, you'll unlock more options to customize your look. The game is played in rounds, and each player will pick a word and try to draw it on the board when it's their turn. At the top of the screen, you can see the hidden word. As you run out of time, letters of the word will be revealed. Try to guess it as fast as you can to earn the most points. When it's your turn, you should pick a word and try to draw it. Use your mouse to do that. You also use different colors to show how creative you are! Enjoy!
Go ahead and try our other game Draw This next! Have fun playing!
Developer
DRA developed Drawar.io.
Release Date
October 28, 2020
Features
Colorful 2D graphics
Can play with other players online
Entertaining and addictive gameplay
Different words to draw
Intuitive controls
Can customize your character avatar
Unlockable customization options
Controls
You can use your mouse to play this game.