Play Now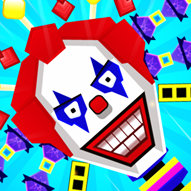 In Coronavirus.io, it is time for us to take revenge from this contagious virus already! Injected inside a sick patient, you will have to do your best to fight off other deadly viruses and become the savior in this fun IO game. Beat other viruses with your horn, extend your height and, be the only virus surviving in the arena! If you are ready to start, let's end this pandemic for good now!
In our body, several virus types are beating each other to survive. In this fun IO game, the situation is exactly the same! You are the cure virus against all the enemies. Your objective in this challenging game is to beat each deadly virus and become the largest of them all! To do so, you should attack them from the behind and let your horns do their job. With each kill, your size is getting bigger, and you become stronger. The game gives you 2 modes to choose from. You can play either in online mode to beat real opponents or offline mode to fight against bots. Also, the game introduces 6 different modes in online mode. But you have to start with the classic mode to unlock other options with your earnings. You can also buy new skins from the in-game shop. Good luck and have fun!
Be sure to check our collection of online and free skill games to compete with more people in real-time!
Developer
Great Games developed this game.
Release Date
March 26, 2020
Features
2D colorful graphics
Online and offline mode options
6 different mode options in online mode
In-game shop to buy new skins
Controls
Use your mouse to play this game.