Play Now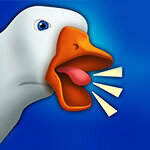 In GooseGame.io, welcome to the deadliest farm ever! It may sound crazy, but for this game, you need to be a savage goose and kill others to take your throne on the farm. In this fun IO game, jump into the farm server with the players all around the world and do your best to become the most dangerous goose! If you are ready, let the competition begin!
Congrats! You are one step closer to become the most savage goose on this crazy farm! The objective of this fun IO game is to grow to be the biggest goose by eating the food you find and killing the others. Use your mouse to move your little goose around and try to eat as many delicious treats as possible. The more you eat, the powerful you'll get! A little tip: avoid the others while you're all grown and ready to fight. Then use your left mouse button to attack others! With every successful bite, take a life from your enemy until they break into pieces! You can see the leaderboard at the right top of the screen. To watch your progress to the following level, check the bottom of the screen. You can attend the discord and chat with other players. To make your appearance more threatening, don't forget to visit the in-game shop! Good luck and have fun!
If you want to challenge more the real competitors, then be sure to check Paint.io.
Developer
DRA developed GooseGame.io.
Release Date
February 6, 2020
Features
Colorful 3D graphics
Multiplayer online competitions
Discord to chat with others
In-game shop
Controls
You can play this game with your mouse.