Play Now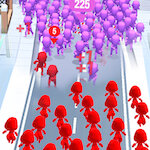 In Crowd City 2, it's time to take over the city with your popularity. Being influential and charismatic makes you irresistible, and it makes people gather around you. Can you gather a crowd behind you as you run around the city, and beat other players in the online multiplayer gameplay of this popular title?
The residents of the city are looking for someone they could follow, and you're just the perfect fit for this much-needed position. The objective of this game is to collect as many people around you as you can before you run out of time to win the game. You can play the game with your mouse. Pick a color from the main menu to represent you and your crowd from the main menu before you start. Next, click on the play button to enter the race. To move around the map, just click and drag your mouse over the screen. The white-colored characters you see are the unaffiliated ones that you can add to your side. Be careful though! You're not the only one trying to expand their crowd. You'll encounter other players too. If you have more people in your group, you can convert the followers of other players to your side. Others can do this too, so stay away from large groups. Good luck!
Do you like to try your chance against the odds? Then be sure to check our collection page of online strategy games. Have fun playing!
Developer
VOODOO developed Crowd City 2.
Features
Colorful 3D graphics
Addictive and entertaining gameplay
Online multiplayer
Intuitive controls
Controls
Press and hold your left mouse button to move around the map.