Play Now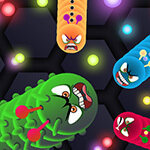 In Angry Worms, get ready to take control of a hangry worm! Join the other players in this online multiplayer game, and try your best to become the biggest worm on the map by eating all the orbs, and sometimes, other players. Can you climb up to the top of the scoreboard as you fill your stomach?
This game features 3 different levels, and each one of those has a different set of objectives that you need to complete. You can play with your mouse. Before heading into the map, you can adjust a few settings. Give yourself a name and pick a character skin from different options. Lastly, you can pick a map size from the bottom. Once ready, click on the play button to enter the level selection screen. Only the first level is available in the beginning, and to unlock the rest, you should complete objectives. You start the level as a small worm but as you eat orbs, you'll gain weight and grow in size. You can track your size and the place on the leaderboard in the top right corner of the screen. Move your cursor around the screen to make your worm follow it. Clicking and holding on the screen makes your worm move faster, but you'll lose mass while doing so. Have fun!
When you finish playing this game, go and check our collection of other free and online.io games for more! Click here to visit!
Developer
Red Eye Production developed Angry Worms.
Release Date
April 25, 2018
Features
Colorful 2D graphics
Competitive online multiplayer gameplay
Intuitive controls
6 different character skins to choose from
Controls
You can use your mouse to play this game.