Play Now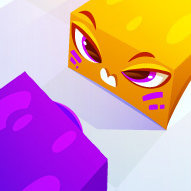 In Paint.io, it's time to fight for your team. The battle of colors is about to begin. You must choose a side or they'll tear you to pieces. Do you have what it takes to survive this arena?
The battle is heating up and your opponents have already started claiming new territories. You have to become a crucial member of your team and maximize your contribution. Your objective is to have the most area before time runs out and win the match. There are 4 colors and when you join the game you'll be placed in one of them randomly. To move your character around the map, you can either use the arrow keys or the mouse. Your main goal is to expand your land by venturing into enemy lands. When you move around, you leave a trail behind you. You have to touch your own tail and close the area to change it into your color. You can see which team has the most area and how far you're behind at the top of the screen. You can try to kill an opponent by touching their tail and gain extra points. But be careful. When you're claiming an enemy's territory, always watch your back. There might be an opponent there to take you down. If they manage to do that we'll see you later, buddy! If you want to you can customize your appearance and buy different upgrades in the in-game shop. Enjoy!
There are many .io games that await you at Yepi, pal. Check out our collection of online io games to browse more titles like this one and join other players all around the world.
Developer
Developed by GAMEE.
Release Date
November 13, 2019
Features
Colorful 2D graphics
Online multiplayer gameplay
Many customization options
Intuitive controls
Controls
Use the arrow keys or the mouse to play.