Play Now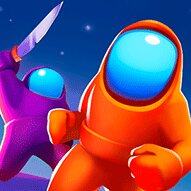 In Among.io, the spaceship calls you again for one more adventure. However, this time the adventure will be more difficult than the previous ones. Would you like to know why? Press the play button and find out! Only one question matters now. Just how long do you think you can survive in this multiplayer game?
Welcome back, impostor, to the spaceship of terrors! All this time, the crew members withered away in your merciless hands. You were the ultimate power and no one could stand up to you. All of that is about to change because, in this spaceship, the other passengers are none other than impostors themselves. Your own kind has been fooling you all this time. They kept you in the shadows and pretended to be normal people, but all of them are impostors trying to rise to power. In this fight to breathe, do you think you can emerge victorious? There's only one way to find out. To win this fight, you need more impostors like you who will follow you. To gain followers, you need to eat all the food you can find. You can also pick up some boosters that will give you special powers for a short time. Press the left mouse button and move the mouse cursor around. Look at the top left corner of the screen to see the leaderboard. You can track your and your enemies' score from there. If you see an impostor with a bigger crowd, run because they can eat you! But, if you have more followers than them, bon appetit! Have fun playing!
Looking for another game like this one? Play Crowd City 2 now. Enjoy!
Developer
Hit Games developed Among.io.
Release Date
May 21, 2021
Features
Achievements to earn
New skins to unlock
Upgrades to buy
Multiplayer gameplay
Controls
Use your mouse to play this game.