Play Now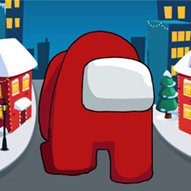 In Christmas Imposter Run, Santa Claus is coming to town to brighten the season! Since there are a lot of children in this town, our old man in red is quite busy. He needs to collect the gifts now and give them to the children. You better stretch your legs and get ready to run. It's time to unleash your inner Usain Bolt! How far do you think you can run in this game?
Ho ho ho! Merry Christmas everyone! Do you know what that means? It means Santa Claus is coming with all the presents. Hurray! But since he's an old man, he may need some help. In this game, your objective is to run as far as you can to collect all the gifts. But this won't be as easy as it sounds because there are many obstacles on the way. But nothing can keep us down. Just think about the smile on the children's faces when they see the presents and you'll be good to go. You can use the up-arrow key to jump over the obstacles and the down-arrow key to slide beneath the obstacle. The left and right arrow key will help you change your direction. Try to collect all the elves you can see on the road to gain a shield that'll make you invincible for a few seconds. You can see how many elves you've collected at the top left corner of the screen. You have 3 lives and you'll lose a life whenever you hit an obstacle so be careful and good luck!
Deck the halls with boughs of holly in our collection of online Christmas games. Enjoy!
Developer
YAD.com developed Christmas Imposter Run.
Release Date
December 22, 2020
Features
Endless gameplay
Items to buy from the in-game shop
Intuitive controls
Nice graphics
Controls
You can use the arrow keys to play.