Play Now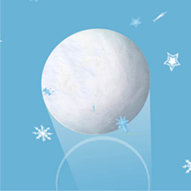 In Snowball Kickup, the winter has arrived, and everywhere is covered with snow! Wear your gloves, wrap your scarf around your neck, and get ready to play in the snow! How many points do you think you can earn in this addictive and challenging game?
Winter is one of the most fun seasons with activities like drinking hot chocolate, playing in the snow, and watching the snowfall! No matter if it's sunny outside of your window, as the snow never melts in this game. Your objective is simple! You try to earn as many points as you can by bouncing the snowball as many times as you can. This goal might sound challenging, but don't worry! The controls of this game are pretty simple, all you need is your mouse to play. When you begin, just click on the snowball on the screen to make it bounce. Keep in mind that the part you click on the snowball determines the direction it'll bounce off to. So be careful and try to keep it bouncing as long as you can. Each bounce gives you a point, and you can track your score from the top of the screen. Have fun playing!
The snow keeps falling in our other online multiplayer game, Snowball.io! Go and challenge other players, and become victorious! Enjoy!
Developer
Agame developed Snowball Kickup.
Release Date
December 11, 2020
Features
Colorful 2D graphics
Entertaining, addictive, and challenging gameplay
Intuitive controls
Snowy Christmas-themed level design
Controls
You can use your mouse to play this game.