Back to School Fashionistas
Play Now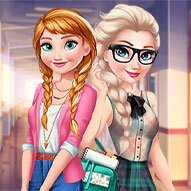 Back to School Fashionistas invites you to the dressing room of 4 beautiful girls as they're getting ready for the first school day. To impress their classmates, these girls need your help. Style their hair, pick an outfit for them, and accessorize! Can you make sure they will turn heads the moment they enter the hall?
It was a beautiful summer, and the girls had fun, but now it's time to get back to school. The best way to show their summer glow-up is to dress in the latest fashion clothes and a great hairdo. Take the role of their stylist, and open the doors of the closet! You style each girl one by one. First, pick an option from different hairstyles. What about a nice updo, or maybe let their hair flow with the wind? It's your choice! When you're done with styling the hair, it's time to pick an outfit. You can select individual pieces to combine them or can pick a premade outfit from the wardrobe. Hmm, what's missing? Accessories, of course! If you're going for a nerdy look, you can pick a book for them. What about a stylish scarf and a pair of nice glasses? When you're finished styling all the girls, you can write whatever you like on the blackboard behind. Have fun playing!
Style, cook, or even plan a wedding with the games we curated in our collection of free and online girls' games! Click here to take a look now!
Developer
Top Girl Games developed Back to School Fashionistas.
Release Date
September 22, 2021
Features
Colorful 2D graphics
4 different characters to dress up
Different customization options
Intuitive controls
Entertaining gameplay
Controls
Use your mouse or the touch controls to play this game.