Play Now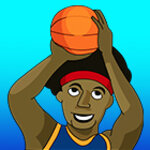 In BasketBalls, it's time for team play! Leave the basketball court and get ready for an extraordinary experience. Featuring dozens of levels filled with various challenges and obstacles, can you prove your team is the best one by scoring points and passing each level?
Your teammates are waiting for you to start, so let's begin. You can play this fun game with your mouse, so click on the play game button on the main menu to start the game. Next, select the first level. The game has 38 different levels for you to complete, but you unlock them one by one. The first 3 levels act as tutorials, so you can get familiar with the controls and gameplay. Your objective in this game is to complete each level as fast as you can to earn three medals. To win, each player in your team on the level should score a basket. Use your mouse to aim and adjust the power of your shot. In the bottom left corner of the screen, you can see your time. The faster you complete a level the better! Try to aim well to make the b-ball reach to your teammate. Watch out for rival team players! They'll try to block the ball, so think carefully. Hitting a referee will give you extra 5 seconds. Good luck and have fun!
If you want to play a similar game, we suggest you should also try our other popular title, Basket Champs. Enjoy!
Developer
Turbo Nuke developed BasketBalls.
Features
Colorful 2D graphics
8 different teams to choose from
38 different levels to complete
Intuitive controls
Entertaining gameplay
Controls
You can use your mouse to play the game.