Play Now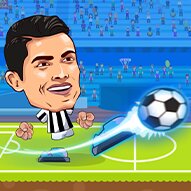 Football Legends 2021 is here for all the talented soccer players! Are you a sports fan? Then you should enter this fun 2 player football game and test your skills in no time! If you want to show off with your goals and defeat your BFF who is as ambitious as you, select the 2-player mode and enjoy the rounds. You can also challenge the AI and add more popularity to your fame. If you are ready, let the match begins!
Football is not a game, it is a passion they say. If you agree with the sportsmen who say this, you are in the correct place! In this fun football game, your objective is to score as many goals as you can in the given time. Like any of the matches, there is a time limit before you climb through the following tournaments. At the beginning of the game, the very first thing you'll do is to select either single-player or two-player modes. Then you'll choose the tournament mode and climb your career stairs or the friendly mode to practice a little. You can also determine the player number of your team and the opponent team. Select the colors and get them to work. Let's see how many goals you can score and defeat your rivals now!
Don't leave yet! Be sure to check our collection of free and online 2 Player games to challenge your BFF and show them your skills in other sports branches too!
Developer
MadPuffers developed Football Legends 2021.
Release Date
May 17, 2021
Features
2D colorful graphics
2-player, 1-player and quick match modes
Tournament and friendly game modes
Fun and engaging gameplay
Controls
Player 1: Arrows to move, jump and slide. "Z" for supershot and "X" for shot. Player 2: WASD keys to move, jump and slide. "K" for supershot and "L" for shot.