Play Now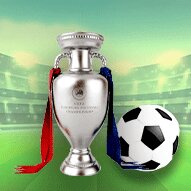 With SS Euro Cup 2021, football has never been this much excitement before! You and your team are against the whole of Europe. It is time for you to show off your sports skills because today is gonna be LEGEN - wait for it - DARY! You have no luxury to be tired today. Win the matches, climb all the way through the championship. Let's see if you can lead your team to the top of the leaderboard now!
Are you ready for the biggest day of your life? Today, you can return home as the new champion of the Europe Cup. But there is a chance of going home as a failure too. It all depends on you and your performance during these matches! When you enter the game, the first thing you will do is to choose your team and to check the match list. The objective is to score as many goals as you can before the round ends. You can use your mouse to move the characters and catch the ball. Click left and hold down to drag to direct your player. Then you should release the mouse to shoot! As you win the matches and proceed in the game, the difficulty level will increase, and you will face more talented teams. We are sure you can handle them! Good luck and have fun playing!
Where are you going? We have still lots of rounds and matches where you can show off your sports skills! Be sure to check our collection of free and online sports games to browse more fun titles like this game.
Developer
Radical Play LLC developed SS Euro Cup 2021.
Release Date
June 1, 2021
Features
3D colorful graphics
Several teams to choose from
Realistic football experience
Fun and engaging gameplay
Controls
You can use your mouse or finger to play this game.