Play Now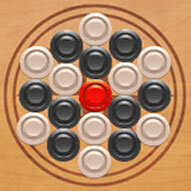 In Carrom with Buddies, it is time to invite your best friend to a challenge! It doesn't matter if you are bad at sports or not! With this game, you can become the best player after you beat your best friend or a complete stranger! Are you ready to jump into the game? Have fun!
Carrom is a tabletop game that originated in India. In South Asia, the game is quite popular, and it is frequently played by families, including children, and at social gatherings. During the early twentieth century, it became immensely popular in the United Kingdom and Commonwealth realms. So now you will play its online version against your friend and any stranger! The first thing you should do when starting the game is select a mode. You have the option of playing with a random person or creating a room and competing against someone you choose. Your goal is to fill the holes with discs of your color. The player who completes their discs first wins the game. You receive a penalty, and your opponent receives a point if you place your opponent's color into a hole. If you have any more questions, please use the question mark at the top of the main menu! Have fun!
If you liked Carrom With Buddies, to check our collection of free and online 2 player games, click here!
Developer
MarketJS developed Carrom With Buddies.
Release Date
May 26, 2021
Features
3D colorful graphics
2 game modes to choose
Online competition
Fun and engaging gameplay
Controls
You can use your mouse or finger to play this game.