Play Now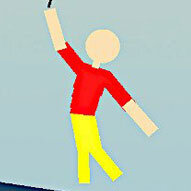 Ragdolls are back with Ragdoll Soccer this time! Challenges and lots of fun are waiting for you here! You just need to try to stay one piece and score goals to win the game! Challenge a friend or race against time, it is up to you! Are you ready for a thrilling soccer experience? Have fun!
You know that the ragdolls are very fragile! But they still are eager to play a football match! But not in an ordinary way, of course! Your goal in this entertaining sports game varies depending on the game mode you choose. In 1-player mode, the aim is to complete each level's goal target in a set period. In the 2-player mode, you must eliminate your opponent in order to win the match. You have a limited amount of time to score goals in the 2-player mode as well. You can use your WASD keys or arrow keys to control the characters. Your characters' heads, legs, and arms can be damaged, but you can still continue playing. But you must outsmart your opponent and complete all of the objectives without a doubt. Don't worry! Our ragdolls are able to respawn right away. Don't forget that they're just stickmen! You can also change the arena in 2-player mode. If you are ready for the match, let's jump into the game! Have fun!
If you want to play more sports games, and try another one similar to Ragdoll Soccer, then be sure to check Soccer Random, too.
Developer
RHM Interactive developed this game.
Release Date
March 17, 2021
Features
2D colorful graphics
Multiple levels to complete
Different backgrounds each level
2 different game mode options
Controls
Player 1: "W,A,S,D" keys to move and release/launch rope with "SPACE BAR". Player 2: "ARROW KEYS" keys to move and release/launch rope with "L".