Play Now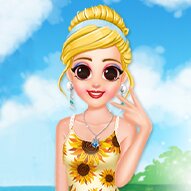 Prepare three stylish best friends for the summer of their lives with Besties Summer Vacation! Choose the best makeup, hairstyles, and dress combinations to help these gorgeous girls! Follow the ten chapters of their trendy journey to the beach and enjoy the hot weather in the cool waters with them!
The sun is up, the vacation van is clean and decorated, and the season is open! What else are you waiting for? Ready yourself for the incoming summer action, keep your brushes close, and your sense of style open! These three beautiful friends are so excited about their next journey that they cannot properly find the best combinations to take to the beach with them. They clearly need some help from a professional, and you can be that help they need! Start with the pretty redhead and find the best colors to fit her style. Choose a pair of contact lenses for her, apply some blush, and add a little eyeshadow and some lipstick. Now you can move on to the hair and clothes section. Try all hairstyles and find the trendiest hair for her beach looks. Combine them with the best clothes and accessories to complete your creation. Follow the same steps with her two best friends and have fun together!
If you like makeup and clothes, you can check out our Girls Games to find more games like this!
Developer
Cutedressup developed Besties Summer Vacation.
Release Date
May 31, 2022
Features
Easy to play
Family-friendly
Three pretty girls with unique styles
Available on mobile devices
Controls
You can use your mouse to play this game.