Play Now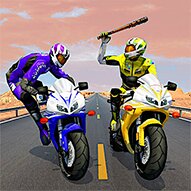 Smash the other bikers' motorcycles in Biker Battle 3D! Buy guns and melee weapons, chase others down the platform, and win races at all costs! Push the speed limits, protect your biker from attacks, and take your opponents down. Upgrade your stats to get further on the track. Do you have what it takes to win this deadly bike race?
This race is nothing like the usual sports competitions you are familiar with. Races put their lives out there to get a chance to make it to the top. You are allowed to do anything to win; bullets, bats, whatever you can get your hands on works on this track. Just make sure you can protect yourself from the other racers. You must split your mind in two to survive this race. The first half must focus on riding the bike without crashing into obstacles while the second part must work on dealing with your enemies. You can do the latter by shooting them from behind or attacking from close range. The close-range attacks give you two options: kicks and melee hits. Kick and hit your opponents before they can take you down, and stay on your bike. Collect gold coins and upgrade your gear and bike. Prove your worth to anyone who dares to compete against you!
If you like this thrilling race, you can check out our other Racing Games!
Developer
TrendyGames developed Biker Battle 3D.
Release Date
September 7, 2022
Features
Amazing 3D graphics
Realistic riding experience
Immersive bike races
Unlockable weapons and bikes
16 challenging levels
Controls
Use "A, D" to move, "F" to shoot, "T, Y" for bat attacks, "G, H" to kick, and shift for nitro.