Play Now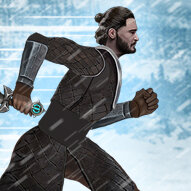 In Black Thrones, the night is long, dark, and full of terrors. As an assassin, it's your duty to protect the people from the army of the dead. Are you brave enough to face your ruthless enemy who will stop at nothing to kill you?
You better arm yourself with your Valyrian steel sword and prepare to run all the way across the wall. Winter is here and the enemy is trying to cross the wall to take all you hold dear. As one of the last soldiers this ancient castle has as any defense, you need to run and dash your way through various obstacles to cut down your enemy. All those who stand in your way shall do so with great courage because unstoppable. To avoid the obstacles you'll face, you can press the up arrow key to jump. When you see a dead soldier, press the space bar to cut them into pieces. Collect all the coins to use them on upgrades that will make you slaughter even more undead soldiers. You'll also find power-ups along the way that can grant you an extra life or other powers. You can see your life points at the top left corner of the screen. Do you think you will be able to beat your own high score?
Do you think the adventure ends here? You know nothing! Check out our collection of online action games by clicking here to play more games like this one.
Developer
Inlogic Software developed Black Thrones.
Release Date
November 06, 2020
Features
Fun gameplay
Nice 2D graphics
Achievements to earn
Boosts to buy
Power-ups to get
Controls
You can use the up arrow key to jump. Press the space bar to kill your enemies.