Play Now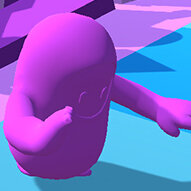 In Run Royale 3D, a great competition is about to begin. Now the time has come for you to write your name in history in golden letters. That is if you can win this race. Are you ready to fight and run for the first place?
Welcome to the start line where your opponents are waiting for you! We hope you are trained for a long-distance run. Although, that's not the only thing that you need to win this game, but we'll get to that later. Your objective is to be the first person to reach the finish line. To control your character, you need to click on the white circle at the bottom of the screen and hold it. Drag the mouse cursor wherever you want to go, and your character will follow. On the road, you will see many doors that block your path. That's where luck comes in. Not all the doors can be opened, so that's why you need to try your chance and hope the one you walk into can be opened. Otherwise, more than a few people may catch up with you. If you can't reach the finish line in the first place, you can always try again. After all, history only remembers the winner, right? Have fun!
If you want to play another game like this one, you can check out Fall Race Season 2. Enjoy!
Developer
bestgames.com developed Run Royale 3D.
Release Date
December 21, 2020
Features
Fun gameplay
Intuitive controls
Nice 2D graphics
Colorful cute characters
Controls
You can use your mouse to play this game.