Play Now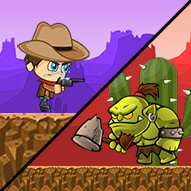 In EG Cowboy Run, put on your cowboy boots, get your lasso and gun, and say yee haw! Wild wild west awaits! Take control of this sheriff and show the bad guys that they can't roam freely in your lands. Put on your badge and hat. Duty calls. As long as you are out there, there's still hope for this land!
Who knew the wild wild west could be this dangerous? Now other than cowboys, you can also see goblins, skeletons, and evil crows. Is there no one out there who is brave enough to stand up to them? Insert "The good, The Bad and The Ugly" theme music here. We're going on a dangerous adventure and dangerous it shall be! Your objective is to keep your character alive for as long as you can and cleanse this land of the evil of these monsters. To do this, you can use the space bar to shoot. To avoid the obstacles, you can click on the up arrow and jump. Don't touch any of the obstacles or enemies or you'll lose a health point. You can see your remaining lives and ammo on the top left corner of the screen. Along the way you can pick up ammo crates and extra lives that you'll need to continue on your journey. Have fun!
To play more games like this one, you can check out our collection of online running games by clicking here. Enjoy!
Developer
EcapsGames.com developed EG Cowboy Run.
Release Date
May 31, 2019
Features
Entertaining and addictive gameplay
Many enemies to destroy
Intuitive controls
Nice 2D graphics
Controls
You can use the up arrow to jump. Use the space bar to shoot.