Play Now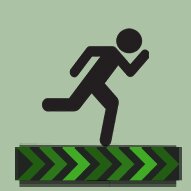 Hop on the platforms and run in a way that suits a fit stickman in X Parkour! Here is a classic platform game for you in which a sportive stickman is eager to run, jump and spin around. Let's see how well you will do!
In this platformer game, you will be commanding a very active stickman. Through a total of 20 levels, you will be running on platforms that are uniquely designed for each level. You can use the right and left arrow keys to run from one side to the other. Your stickman can jump high and roll over up in the air. You should use this flexibility in the best way to overcome the difficulties these platforms may offer. For instance, there may be platforms that fall off abruptly or surprise spikes that appear out of nowhere. You should always keep an eye on the dangers, but you always have the chance to restart the level. You can even try your chance to start from the flagged checkpoint. Let's see how long it will take you to complete this game!
If you enjoyed this fun platformer game, you should also check out our collection of free and online running games to enjoy more games like this one!
Developer
SNSHUB team developed X Parkour.
Release Date
December 07, 2020
Features
• 2D graphics
• 20 levels
• Checkpoints available
• Quick and fun gameplay
Controls
Use the right and left arrow keys to run from one side to the other, jump with the up-arrow key, and spin in the air by double-clicking the up-arrow key.