Play Now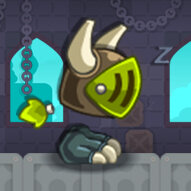 In Castel Runner, a challenging mission is waiting for you to complete! You will run on the castle, jump over the obstacles and collect stars! Try to get the highest score to beat the other players! Will you able to move on running until you get the highest score? Have fun!
Our knight found himself in the dark corridors of the castle while searching for the princess. He cannot make it to run away by himself, so we will help him jump over the obstacles to make him reach his aim. Can you help him complete this mission? Then click on the play button and start the game! Your job here is to jump to avoid obstacles like sharp spears, moving barriers and run as far as you can to get the highest score possible. You need to overcome all the tests to get to the target. You will use your mouse to control the knight, click on the screen when you want him to jump over an obstacle. Don't worry! our hero knows how to hang in the air, so he has every chance to stay alive during this difficult mission! If you proceed with the game, you will see some start hanging on the air, try to collect them all and follow your progress from the left top of the screen. Will you able to survive for as long as you can? Let's jump into the game and see if you can or not! Good luck!
If you want to try another game similar to Castel Runner, then be sure to check Castel Wars by clicking here.
Developer
Foxzin.com developed Castel Runner.
Release Date
June 5, 2020
Features
Addictive game
Endless gameplay
Intuitive controls
Entertaining gameplay
Controls
You can use your mouse to play this game.