Play Now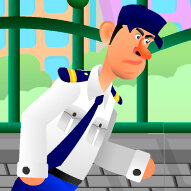 In Police Runner, you will control a police officer! He is doing his job, there is nothing wrong. But guess what! He is afraid of dogs despite he doesn't afraid of anything while he is doing his work! You need to save him! Will you be able to make him run as fast as he can? Good luck!
Everybody has some phobias; people may be scared of somethings. And our police officer unfortunately fears dogs! This may sound weird, but this is real! We have to help him run away from the dog! If you are ready for this vital mission, you can click on the play button to start the game! Your objective is to make him run for not to be caught by the dog. When the game starts, he will automatically start to run but you need to use your mouse to make him jump. There will be some obstacles on the road, if he hit one of them, his speed will decrease, and the dog will catch him. Control the police officer and move him up and down to save him. As you proceed with the game, his speed will increase, so you really need to focus on the game for not to make mistakes. Are you ready to save the police officer? Then get the highest score possible! Have fun!
Do you want to play more games like this one? If so, take the different challenges in our collection of free and online running games.
Developer
Best Kids Games developed Police Runner.
Release Date
June 5, 2020
Features
2D colorful graphics
No levels to pass
Entertaining gameplay
Intuitive controls
Controls
You can use your mouse to play this game.