Play Now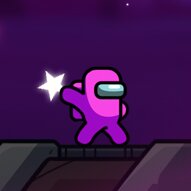 In Impostor Zombrush, get ready to enter a cube world that was built just for you! You may be an impostor, but little did you know that there are also other impostors like you, and they see you as a threat to themselves. So, to get rid of you, they created this world. The question is, can you escape from their clutches?
You better run, boy, run! Don't look behind and don't hesitate for a second. You were once the hunter, but now you are the hunted. You are the black sheep amongst them and you need to be destroyed. Welcome to the arena, impostor! The hunger games is about to begin. You need to save your own skin now. Your objective is to run as far as you can and earn a high score. When you wake up, you will find yourself in a world full of cubes. You need to run across the platform, avoid all the obstacles, and not get caught. Some of these cubes have spikes and other traps on them. Avoid these traps by clicking on the screen to jump. There are also turns that are as sharp as Brad Pitt's jawline. Click on the screen when you are on the cubes with arrows to turn. You need to react quickly and improve your hand-eye coordination skills to ace this game. Don't forget to collect mystery boxes and coins to buy new characters. Have fun playing!
If you miss being the hunter, you can check out Impostor by clicking here. Enjoy!
Developer
kiz10.com developed Impostor Zombrush.
Release Date
April 14, 2021
Features
Fun and challenging gameplay
Nice 2D graphics
Intuitive controls
New skins to buy from the in-game shop
Controls
You can use your mouse to play this game.