Play Now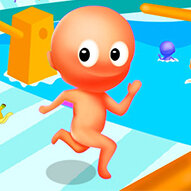 In Fun Escape 3D, it's time to run! Run for your life. Run like you are running away from your responsibilities. Run like death itself is chasing you. Because that's what you'll find if you don't. Do you have what it takes to survive through this game?
When you opened your eyes, you found yourself at the start line, waiting here with 2 other people, about to begin a race to death! You're at the beginning of a stone bridge that leads to nowhere. There's a great evil at work here that is much more powerful than you and it wants you to race to death for its own entertainment. The question is, can you be the last man standing or end up in the cold, deep waters? Your objective is to run as far as you can to earn a high score. To start the race, you can press the left mouse button. Slide the cursor to change your direction and avoid obstacles on the road. As if the two ambitious and scary guys next to you weren't enough, there are obstacles that can throw you into the ocean. Avoid them no matter the cost and try to survive. Beware of your opponents as well. If they stand next to you, it's not because they are there to support you but to throw you into the ocean themselves. You stand alone here. Do you think you can run as far as you can and survive through this race?
There are other races as fun and exciting as this one at Yepi. Check out Wacky Run by clicking here to see what we mean. Have fun!
Developer
YAD.Com developed Fun Escape 3D.
Release Date
February 3, 2021
Features
Challenging and entertaining gameplay
Nice 3D graphics
Deadly traps
Intuitive controls
Controls
You can use your mouse to play this game.