Play Now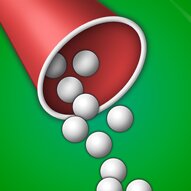 A little bit of math, a little bit of skill, and you're good to go in Bounce and Collect! Everyone loves party tricks and to show them off. Now, you have a chance to show off your maths skills besides your party tricks! So, now are you ready for a fun and cool game?
In this game, you are playing with party cups and ping pong balls. The best sides of parties are here with you to have more fun. Get ready to have some calculated moves with party cups and ping pong balls. For many levels, your aim will be to complete the levels in the best way with the help of these calculated moves. At each level, you will two rounds. At each round, you will try to get a limited number of ping pong balls through tunnels. Some tunnels will multiply the balls by 3, some will multiply by 6, some will do nothing, and some will deduct the balls. You can choose which tunnel to get the balls through, to have the highest number of balls when you are completing the level. Also, you collect money with each ball you get in the cup to the end of the level. You can unlock new types of balls with that money, too. So, now relax and play this fun and addictive game!
If you would like to play games like this one, you should check out our collection of free and online sports games.
Developer
DRA developed Bounce and Collect.
Release Date
October 21, 2021
Features
• 2D colorful graphics
• Intuitive skills
• Challenging game experience
• Addictive gameplay
• Balls to unlock
• Multiple levels
Controls
You can use your mouse to click and pour the balls.