Play Now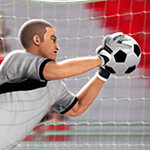 In Goalkeeper Challenge, let's see how fast your reflexes are! It's game night and everyone is waiting to see who will win! But the teams are tied and the game has gone to a penalty shot. Do you know what that means? It means that you and your skills will determine the winner! You're the last defense for your team and the last chance for victory! It's time to prove your worth, goalkeeper!
Football is one of the most popular sports in the world and you have an important part to play in this sport. And tonight, it's time for a penalty shootout. That means that you'll be the center of attention. So, wear your padded gloves and let's go! Your objective is to stop as many shots as possible. There are 10 levels to play and the game difficulty increases steadily along the course of the game. The enemy team will take 5 pairs of penalty kicks and you have to save at least 3 of them to complete each level. You can use your mouse to control the padded gloves. At the top of the screen you can see the level, how many kicks they have left and the number of balls you have saved. This game is the perfect chance to improve your hand-eye and foot-eye coordination. Start now and defend your goal.
At Yepi, we have lots of categories and titles that you can check out. If you're a fan of football, be sure to visit our collection of online and free sports games to enjoy other fun games like this one.
Developer
Code This Lab S.r.l. developed this game.
Release Date
October, 2017.
Features
10 levels to complete
Fun gameplay
Easy controls
Nice 2D graphics

Controls

Move your mouse to control the keeper gloves.