Play Now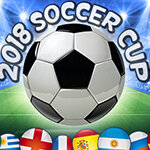 In 2018 Super Cup Touch, be prepared for a fantastic soccer match with 32 teams ready to represent you! You are only one step behind to get first place in the world cup championship. Select the country to form your team and make incredible passes among your players. You only need your mouse and ambition to win this match! Let's see how many goals you can kick!
You have come a long way and finally receive the reward of your hard work with a big gold cup! In this fun sports game, your objective is to aim to hit the ball with the selected player and make as many goals as possible before the round is over. First, choose your team by clicking on the flag of the country you want to play for. Then you will be directed to the soccer pitch. The opponent team will be the first one to move. When it is your turn, select one player and use your mouse to direct him. Hold the left click to increase the power of your hit and release the button to realize the kick. You have 3 chances to play before the turn passes to your opponents. You can check the remaining time at the left top of the screen and next to it, see the scores of both teams. Good luck and have fun kicking!
If you think it is time for achieving more success in another sport field, then be sure to check Basketball Stars.
Developer
YO-YO games developed this game.
Release Date
December 18, 2017
Features
2D colorful graphics
32 flags to choose as a team
Aiming skills are required
Time limit to catch up
Controls
You can play this game with your mouse.