Play Now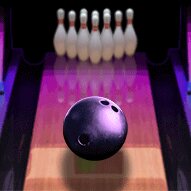 Become the hero of the bowling halls in Bowling Hero Multiplayer! As a world champion, you are the talk of everyone around who loves bowling. They came to watch you in your match with your rival, and you should prove to everyone how good of a bowler you are. Can you make a statement with your skills?
Get your bowling ball, and don't forget to strike a pose when you're playing against your rival. In this fun game, you choose two heroes among 6 available players. When you choose two characters, you can either play as the two characters or take turns with your friend next to you from the same computer. When one character's game ends, the other can go. You must carefully balance the controls to be successful, though. To position the character in the shot point that you want them to stand, you can use the arrow keys or click the arrows. Later, when you are ready, you can click the space bar or click left to throw the ball. Be sure to use the power bar at the right and try to maximize the throwing power. You can finally set the effect and the rotation of the ball while throwing it. Try to get as many points as you can in this bowling match and win the game!
If you want to try similar games, you should check out playing The Bowling Club by clicking here.
Developer
Code This Lab srl developed Bowling Hero Multiplayer.
Release Date
October 19, 2021
Features
• Realistic colorful graphics
• Intuitive controls
• Need for sudden player control
• Addictive gameplay
• Multiplayer option
Controls
You can use the mouse or the space and arrow keys to control the features.