Play Now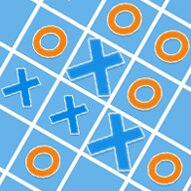 Take a look at the newest digital version of the most widely played strategy classic with Tic Tac Toe Multiplayer!
Join the online game lobby, see the players, and find opponents to play against! Repeat matches with the same players if you like, or get out and search for new people to challenge! Welcome to the digital and simplistic version of the famous logic game! Here, you can pause your life and enjoy the addictiveness of finding new tic tac toe matches with just one click! Also, you can choose your opponent and try your chance against other players in online matches or play against the game itself. You earn points for the online matches you win, and the game saves your advancements. Collect points to see how far you have come, and delete your data to restart whenever you want! Create game rooms with passwords and send your friends the game link to invite them to an online match or search for a quick match and let the game match you with a random player in seconds. Share the screen and play with your family on the same computer or choose the game size and play against the bot! Good luck!
If you like this game, you can check out our other Puzzle Games!
Developer
Code This Lab srl developed Tic Tac Toe Multiplayer.
Release Date
October 23, 2018
Features
Simple and minimalistic game design
Online and offline options
Game modes
Difficulty settings
Available on mobile devices
Controls
You can click or tap on the tile you want to mark.