Play Now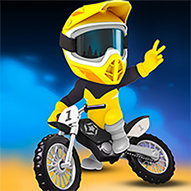 In Moto Rush, prove to everyone that your reputation for fast living is well deserved. The motor race is about to begin and your opponents are ready and waiting for you! Who is going to reach the finish line first and earn the trophy? Are you ready to take on this challenge?
They say that city life is thrilling. Well, they have been so right. The time has come for you to conquer the streets of the city and give the citizens something to feel excited about. What you should do is pretty simple. Just slide the mouse to control the bike and start the race. But still, there are somethings to be careful about. Try to avoid the traffic barriers and don't crash into other bikes. We've found that this is almost always a good advice anyway! But when you see a ramp, don't hesitate. Just get ready to perform jaw-dropping stunts. A little tip, though! When you pass over the ramps, stop pressing the left mouse button to stop rotation. Slow down a bit to continue the race. Try to be the first one to reach the finish line and show your opponents that your skills are unmatched.
Hooray! The world has heard of your talents and now you're off to travel the world to showcase your skills. Click here to check our collection of online racing games to prove yourself once more.
Developer
Developed by DAB3Games.
Release Date
August 31, 2020
Features
Nice graphics
Obstacles and ramps
Fun gameplay
Intuitive controls
Controls
Use your mouse to play this game.