Play Now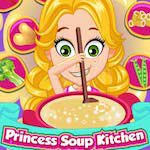 In Princess Soup Kitchen, the kitchen awaits you to see what amazing recipes you'll show us today! You're completely in charge today and we're waiting for you to cook us delicious soups. Get your ladle, pot, and knife ready. And let the cooking begin!
It's a brand new day! The princess is feeling awesome today. The only problem is, she's hungry! But this time she wants to try out something different. It's your objective to cook her a delicious soup that is unlike anything she has ever tasted before! To cook her this magical soup, you have all the ingredients you need. We don't want a recipe, we want to see what you have to offer. To play, you simply have to click on the ingredients you see and the buttons at the bottom of the screen to make your soup. There are a lot of ingredients that you can choose from. There are fresh vegetables, meat, rice, pasta, and other very special ingredients such as dragon scales, frog, and unicorn horns. Mmm, sounds delicious, right? Well, at least it does to some people. Choose your ingredients, chop them, season, and stir the mixture. Finally, invite the princess so she can taste it. Wow, it's so delicious that she's on cloud nine! Ugh! The other soup is boring, though. It needs more ingredients. Try to cook as many soups as you can to collect all the badges. Have fun!
The princess needs your help in other games as well. Check out our collection of online girl games to help her out. Enjoy.
Release Date
November, 2018.
Features
12 badges to unlock
Different ingredients to use
Fun gameplay
Easy controls
Controls
Use your mouse to play this game.