Play Now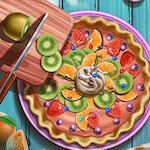 In Pie Realife Cooking, head into the kitchen, turn on the oven, and get ready to prepare the best and the most delicious fruit pie ever! With its sweet crust and dreamy cream filling, pies are one of the best desserts to enjoy! Whether you know how to cook or not, we're sure you'll bake an amazing pie in this colorful game!
Wear your apron, put on your chef's hat, and grab your tools! The kitchen is your playground in this game, so it's time to bake! Your objective in this game is pretty yummy! You try to decorate and bake a pie by using different ingredients. The crust and the filling are already done, so you should focus on slicing juicy and sweet fruits. You can play this game with your mouse. First, grab the fruit and place it on the cutting board. Then take the knife and slice the fruit by clicking on it. From strawberries to grapes, this pie will have many different flavors in it! After you're done with slicing every fruit, it's to place them on the pie. Place them as you like, and then open the door of the oven and place your pie inside. After it's done and cooled down, you can decorate your pie with candies or whipped cream! Take a photo of your dessert if you like and maybe start making a new one? Enjoy!
Pets, animals, desserts, and princesses are waiting for you in our collection of free and online girl games! Have fun playing!
Developer
Sisi Games developed Pie Realife Cooking.
Release Date
May 9, 2018
Features
Colorful 2D graphics
Intuitive controls
Entertaining gameplay
Different ingredients to use
PIE!
Controls
You can use your mouse to play this game.