Play Now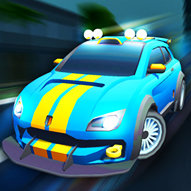 In FunRace.io, pedal the metal and get ready to burn those tyres. The roads are all empty and the race is about to begin. Do you think you can beat all the others and take your place at the top?
You know what they say: When speed gets in the blood, one must drive to live. You're about to compete against other players from all around the world. But don't worry. With your skills and all the gear, all they can do is eat your dust. Time to make your car roar then! In this game, your objective is to win each race. Sounds easy enough, right? But don't forget. You're facing real players who are as experienced as you are. To control the car, use the WASD keys. Click the play button and let the adventure begin! When you start the race, you'll see puddles of oil on some parts of the road. Apparently, an accident has happened here. To avoid meeting the same fate, stay away from them at all costs because they will make you slow down. You can see your position and the lap you are on in the top left corner of the screen. If you're far behind everyone else, just be sure to drive over the yellow arrows you see on the road to get a speed boost. If you want to play dirty, just hit the other cars so they crash into the barriers. But be careful and don't allow them to do the same to you! Let the race begin!
If you want to play more racing games, check our collection of online racing games to browse more titles like this one.
Developer
Developed by DRA.
Release Date
March 9, 2020
Features
Fun and fast-paced gameplay
Colorful graphics
Intuitive controls
Online multiplayer gameplay
Controls
You can use WASD keys to move around.