Play Now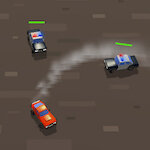 In Car Chase, fasten your seatbelt and keep your hands on the steering wheel, because you'll be driving fast! The cops are chasing you and there's nowhere to run! Your only option is to keep on escaping from them. Can you show you're the best driver in the city, and none could catch you?
Floor the gas and watch where you're going. With their sirens and angry noises, the cops are just behind you. The objective of this game is to escape from the police cars as long as you can. This might sound a bit challenging at first, but the controls of this game are pretty simple. You can use the arrow keys to control your car. To start the game, click on the go button on the main menu. When you start, your car will move on its own, but you should change its direction. In the top right corner of the screen, you can see your health bar. Hitting other cars or obstacles like rocks will reduce your health, and you lose the game once it reaches zero. While playing, you'll notice money around the map. Collect as many of them as you can, because these can be used to unlock new cars. Each car has different stats. Can you unlock them all? Have fun!
Become a driver and use many different vehicles in our collection of online car games. Enjoy playing our games!
Release Date
October 17, 2018
Features
Colorful 3D graphics
5 different cars that you can use
Addictive gameplay
Intuitive controls
Controls
Use the arrow keys to control your car.