Play Now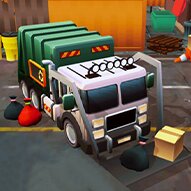 Garbage Rampage makes collecting garbage while dangerously speeding down a slippery highway more fun than it could ever be! Fasten your seat belts because it looks thrilling even in a game, and get ready for your public service duties; we are going on a smelly trip!
This garbage truck cannot move straight, and this is only the first of your problems. You will have to zig and zag your way through the street, avoiding trash cans and concrete obstacles. Your car has two stats: fuel and health. Fuel runs out with time, while health decreases with every hit your vehicle gets. A no-hit run sounds perfect under these circumstances, but there will be positions where it is impossible, and panicking while trying not to get any hits might cause you to lose all balance and end up with more damage. Instead, you can sacrifice a little when needed, collect repair and gas services on your way when possible, and move on to increasing your score by collecting trash bags. You get paid for these dangerous and stinky runs, and the good news is that you can upgrade your truck's stats with the money you earn. Go to the garage and choose between strength, supplies, handling, and extra to improve these features and rule the streets!
If you like playing challenging games that require skills, you can check out our Skill Games category by clicking here.
Developer
Vitalitygames.com developed Garbage Rampage.
Release Date
March 16, 2022
Features
Colorful 3D graphics
Easy controls
Unlockable upgrades
Available on mobile devices
Controls
You can use the arrow keys to play this game.