Play Now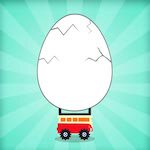 In Eggy Car, get ready to carry around extraordinary baggage. Normally, it's best to carry eggs in a basket, but the one in this game is pretty big to fit into one. So you decided to place it at the back of your car. How far do you think you can drive through the bumpy roads without breaking your delicate cargo?
The road might be empty but doesn't mean you won't be facing any challenges. The countryside is has a bumpy landscape. Your objective in this game is pretty simple. All you try to do is to travel as far as you can without dropping and breaking the egg. Click on the play button on the main menu to start the game. You can use the left and right arrow keys or the A and the D keys to move your car. Adjust your speed when driving, as the egg is not secured at the back. You'll see coins all around the road. Try to collect as many of them as you can, because those can be used to unlock different cars from the in-game shop. You can browse your options by clicking on the cars button on the main menu. Good luck and drive carefully!
Do you want to challenge and test your hand-eye coordination? Then go ahead and try our other fun game Color Tunnel 2 by clicking here. Have fun!
Features
Colorful 2D graphics
5 different cars to unlock
Easy controls
Exciting gameplay
Controls
Use the D or the right arrow key to move forward. Use the A or the left arrow key to move backward.