Play Now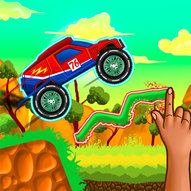 In Brainy Cars, you'll have to prove your skills in not only driving but also drawing! Is there anything better than being on the road and enjoying the scenery around you pass by? Well, if the road is good then driving is definitely fun. But if you're driving on bumpy roads, meh! Not so fun at all. In this game, the quality of the road is in your hands. Do you think you can make the perfect road to travel over the hills and far away?
Feeling the wind in your hair and the bugs in your teeth... Sounds exciting and fun doesn't it? Well, at least it does to some people. Road trips allow us to feel like we're on top of the world. But this time there's a little twist. Your objective is to draw your own path, so your car can reach the finish line. Grab your pen and let's go! To play, you need to tap and hold your mouse to draw roads. You can draw more than one road!. Still, you have to be a bit careful when you're drawing. If the road is too steep to pass, your car will rollover. We're not on the roadway to heaven, after all. Try to collect all the coins you see to buy new cars and unlock new places. Oh, the places you'll go... You can drive across the countryside, rocky hills, and even Mars. Try to avoid all the dangers and collect the fuel tanks to refill your car.
If you like drawing, click here to play Basketball Line and draw lines to make sure the b-ball reaches the basket.
Developer
Developed by Robert Alsin.
Release Date
September 21, 2020
Features
Colorful 2D graphics
Boosters to buy
Different cars to unlock
Different locations to visit
Controls
Use your mouse to play this game.